There was a projected 75% increase in plastics used in vehicles between 2015 and 2020. Driven by lightweighting efforts and the increasingly stringent regulation of carbon emissions, the proliferation of plastics has exacerbated a problem all its own: low surface energy (LSE).
Plastics can't be welded like steel. They also aren't well-suited to mechanical fastening to metal components (steel, aluminum, magnesium) due to a vast difference in thermal expansion coefficients. When heat expansion is out-of-sync, it can stress fastener points and compromise the integrity of the bond. This has led to a concurrent expansion in the use of adhesives to bond automotive parts: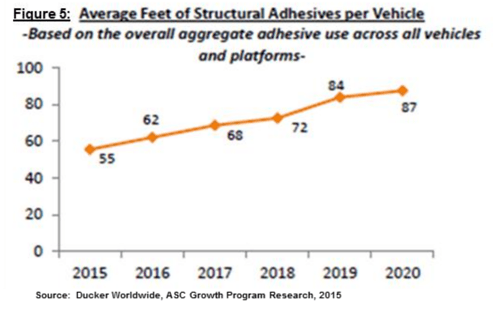 (Source: Adhesives.org & Sealants.org)
Injection-molded thermoplastics and composites tend to have drastically lower surface energy than metals, however. In other words, they actively resist adhesion. So how can an automaker find the right low surface energy adhesives?
Start With the Right Suppliers
You may already have a supplier. In the right situation, a switch could still represent an opportunity to reduce your costs. But for our purposes, let's assume you're on the hunt for a supplier of low surface energy adhesives for your project.
It makes sense to start by checking on certifications (ISO, QS, and others) and product specifications, of course, but there's much more that goes into a robust supplier selection method—and a few common pitfalls worth avoiding, too.
You'll want to find a supplier who fits a few basic criteria. For instance, they're comfortable at a wide range of price points, welcome a site visit (or even an inspection), and have a reputation for quality from previous customers. Also, look for accessible inventory information, statistics on lead time/delivery performance, and a detailed rundown of their scalability.
An informal Thomasnet survey suggested that nearly 50% of buyers have partnered with a supplier who went out of business with little to no warning. It pays to look for assurances of financial stability before signing a contract.
Get the Right Price
There are a number of effective tactics for getting the best automotive adhesives at the lowest price. It helps to inquire about a large order initially and then see how it scales when you follow up with a lower unit count. Sourcing locally and negotiating over value-added or secondary costs can also make for a friendlier price. But the most budget-friendly suppliers share four traits: collaboration, innovation, a trusted reputation, and quality-of-life savings (service, shipping, conveniences) in the partnership.
Prioritize Your Needs for Low Surface Energy Adhesives
Adhesives for plastics have vastly different needs than those for metal parts. But even within the realm of plastics, it pays to go into your consultation armed with a checklist of qualities you need for your LSE adhesive project (such as this one for VECI labels). For example:
This is just a brief list. Every area of the cabin has unique needs. Ultimately, you're most likely to find the right low surface energy adhesives through consultation with your supplier.