If you're an automotive supplier, OEM relationship management is central to sustaining your business. However, there are a few hurdles to leap over on the road toward a strong supplier-OEM relationship.
First, automotive OEMs often select suppliers primarily on cost. It wasn't always this way, but this price-centric relationship grew from modern manufacturing economics. Easy global outsourcing (predominantly in China) contributed to late 20th-century wisdom that bottom-barrel costs were more valuable than long-term relationships.
Second, the information age has given OEMs access to internet-based channels where they can pit suppliers against one other in highly efficient cost competitions. Online RFQ aggregators make it easier for OEMs to find suppliers on cost alone, and harder for suppliers to build meaningful relationships while negotiating new contracts.
But fear not, because there are ways to boost the long-term health and mutual benefits of an OEM partner arrangement. It partly comes down to mindset; the rest is about business strategy. Here's why (and how) you can better position your supplier-OEM relationship for success:
---
Table of Contents:
Is a Strong OEM Relationship Necessary?
5 Ways You Can Strengthen Your Supplier-OEM Relationship
---
Is a Strong OEM Relationship Necessary?
OEMs spend 60-70% of their revenue on suppliers. Accordingly, OEM suppliers play an enormous role in the success of the automotive supply chain. In many cases, it's the suppliers who are the ones sharing innovative new technologies and materials in the OEM relationship.
As you can imagine, then, a strong working relationship with suppliers has long been tied to measurable profits and is well worth the effort of pursuing.
Working Well Together Has Benefits—For Both Sides
Consider this: the 15th annual "North American Automotive - Tier 1 Supplier Working Relations Index® Study" had 435 supplier participants in 2015. This study found that a strong working relationship with suppliers had tremendous incentives for OEMs and suppliers alike. The same results were found in the 2017 edition of the study. Among the considerable benefits and incentives discovered were:
More supplier interest in cutting edge technology that will meet future OEM needs
More supplier willingness to share that technology with OEMs
Open and honest communication
More experienced supplier personnel supporting the OEM
Suppliers are happier to support the OEM beyond the terms of the contract
Considerable price concessions on the part of the supplier
For suppliers, a productive relationship like this will have corresponding advantages:
Earlier involvement in future OEM projects will allow for design insights and ideas
OEM support and loyalty (within reason) when supply struggles
A collaborative approach to cost-downs and technology investments
First-look treatment with new supply needs that are being shopped
It may be possible for OEMs today to achieve low prices by pitting suppliers against one another in faceless online bids, but the lack of investment in the relationship has its own costs—and none of the above benefits. Both sides prosper with working relationships built on trust and mutual best interest.
The Lesson of Supplier "Keiretsu"
In the Japanese automotive industry, companies up and down the manufacturing supply chain (from Tier 3 to the automaker) are often organized into "keiretsu": tight-knit networks of vendors that work together to improve, learn, and contain costs in long term business relationships.
These vertical company families are founded on loyalty and shared goodwill. Associated suppliers expect preferential treatment and support, and OEMs reap the benefits of a motivated, well-integrated supply chain. Unfortunately, the rise of low-wage outsourcing made sure this much-admired model never really took off with automakers from other countries—but there are useful lessons to be learned.
The past two decades are a perfect example. In 2003, Toyota and Honda sold 1.6 million vehicles in North America. Astoundingly, 60-80% of the material for those vehicles was also sourced and manufactured in North America—not shipped from Japanese plants or low-wage countries. Toyota and Honda had built American-branch keiretsu.
The American suppliers for these materials rated their close-knit relationships with the Japanese automakers very highly, and as a result, they were better able to keep Toyota and Honda's costs low and find new ways to improve the vehicles they worked on year-over-year. Clearly, the close supplier webs that typify Japanese business models are possible (and successful) elsewhere.
Jump ahead to 2019, and take a look at the results of the 19th annual "North American Automotive OEM-Tier 1 Supplier Working Relations Index" study (released June 17):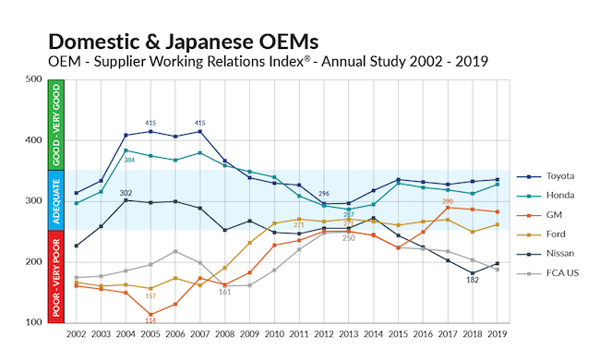 (Source: Plastics Today)
Nearly 20 years of data show that the strong OEM-supplier relationships fostered by Toyota and Honda have consistently made them preferred partners. High supplier-relations ratings correlate strongly with OEM benefits like:
Profit-per-vehicle data over this same period back this up, as both sides see better profitability when their relationship is healthy. So how can you contribute to the success of a partnership? While OEMs are often the ones in the driver's seat of these relationships, you can still play a vital role in promoting productive business relationships. Here's what you can do to help:
5 Ways You Can Strengthen Your Supplier-OEM Relationship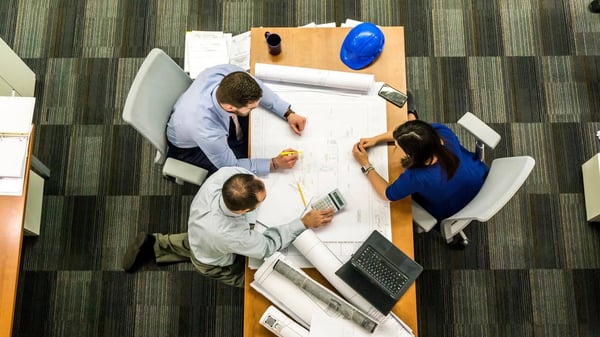 Communication—Be Proactive, Not Reactive
The OEM may set an initial cadence for contact points, but suppliers can do their part to facilitate excellent communication throughout the partnership. Staying on the same page comes down to the quality and frequency of interactions. It's all about being:
Proactive: Don't wait for them to come to you. If you have an idea on a cost-down, a lingering question, or a snag you foresee becoming a problem in the future, it's best to get on it and speak up.
Transparent: Share obstacles and issues you've discovered—anywhere in the supply chain—as soon as possible and offer to work together to fix them. Transparency demonstrates trust and goodwill—the foundation of any lasting relationship.
Informative: The OEM counts on you to be the expert, so they don't have to be. But this can lead to situations where their desires are out of line with your materials or processes. Help the OEM understand what you do so that expectations stay in alignment and communication doesn't break down over misunderstandings.
Consistent communication is what creates trust in a relationship. Hau Thai-Tang, Ford executive vice president of development and purchasing, knows how critical trust is to the supply chain. In an April 2019 interview with Rubber & Plastic News, Thai-Tang said, "We recognize that 75 percent of our value-add is provided by our suppliers. I think it's a good relationship, one that's built on trust and co-dependency for success."
Collaboration—Share In One Another's Success
The level of collaboration between an OEM and supplier is a bar that sets efficient supply chains apart from struggling ones, according to recent research. In fact, a collaborative relationship makes even more of a difference than low initial costs. The highly competitive auto industry will always jump at cost-downs, but collaboration promotes buy-in for longer-term growth and improvements.
Supply Chain Dive recently reported that cost-cutting initiatives don't always hinder the OEM-supplier relationship as long as consistent and cooperative treatment persists. Some examples include:
Sharing goals
Establishing mutual growth strategies
Clearly defined terms of collaboration and profit-sharing
Here are some of the ways you can work to build a collaborative spirit with your OEM:
Work together in areas of mutual strength and stability. When both parties are capable, good feelings are mutual, whereas continuous compensation for one party over the other leads to frustration.
Establish precise terms for the collaboration—who and what it will involve, how long it will continue, a defined execution process, etc.
Craft shared goals based on shared interests. Some commonly shared goals include streamlining logistics, reducing acquisition costs, boosting profits, or joining a new market.
Split the benefits with a benefit-sharing agreement, and you and your partner could achieve similar profits, though maybe in different ways.
Use the same system to manage performance with a shared collection of methods and metrics, or even the same supply chain software.
Sharing in one another's successes not only improves your OEM-supplier relationship but also builds profits. Simply put, two heads are better than one, and close relationships inevitably lead to leaner manufacturing and cost downs.
As Steve Kiefer, senior vice president of GM's global purchasing and supply chain, observes: "As we've been earning that right to have a better relationship, we're finding all kinds of incredible opportunities to take cost out of the product by not just dropping price, but by finding elements in the value stream and eliminating the waste." As a result, Keifer says, "The supplier and General Motors can be more profitable."
Innovation—Bring Something New to the Table
The automotive industry has been disrupted by things like:
These factors are all pushing the auto industry towards new investments and creative partnerships. Therefore, a strong relationship with your OEM isn't only about how you work together—it's also about being a valuable partner.
OEMs are looking for suppliers who can help them take advantage of the latest technologies. "Tier 1 suppliers realized a few years ago that to stay profitable, they need (to innovate)," says Matt Desmond, senior manager at an industry consultancy called Capgemini.
The VP of purchasing at Honda of America, Pam Heminger, says that innovation is critical to Honda's long-term success. Her company seeks suppliers that "have innovation and continuous improvement as part of their business culture. We want them to bring these ideas to the table," she says, "and we're always looking for suppliers who can help us take on these new technologies." Ultimately, if your company emphasizes ingenuity and steady improvement, you'll stand out from the pack.
For example, GM recently brought a seat supplier in on their truck and SUV platforms much earlier than usual. Kiefer (the GM VP quoted earlier) says the supplier offered an innovative design for a second-row seat. It was so effective that it drove design for the rest of the cabin.
This kind of innovation encourages automakers and OEMs to involve suppliers a whole year or two in advance of a vehicle project for their input on the technical direction of the design. Give yourself the best chance to impress your downstream partners by:
Investing in up-to-date equipment and tools that boost productivity
Optimizing your workforce and infrastructure
Emphasizing innovation in your company culture and strategic initiatives
Specialization—Be the Best at What You Do
Another way to become the ideal business partner and encourage a fruitful, long-term relationship is to focus your product offering. Narrowing your specialty frees up excess resources—that once supported the needs of a broad portfolio—so you can concentrate on refining what you do best.
The global auto supplier Visteon, for example, used to offer a wide range of automotive products. However, spokesperson James Fisher says, "We've become laser-focused on what we do best and we're a very different company than we were even a few years ago. We've changed and adapted to serve the automakers, and many consumers are being driven by cockpit electronics." Visteon today is a profitable, specialized vehicle cockpit electronics supplier.
It's easier to create cost-efficient products when your innovation is narrowed to serve a specific niche, and all R&D is focused on adding value to those components—perhaps even for a particular class of vehicle. In the same article as the Visteon story, Alan Baum of Baum and Associates says, "If you provide value, you are no longer a commodity. You become something the automaker needs."
Need is the operative word, here. Two companies that need each other will naturally share a stronger relationship than partners with a contract forged on price point alone.
Reputation—Build Consumer Trust
Your reputation precedes you. If you want loyalty and trust from your OEM partner, it helps to bring pre-existing trust and loyalty from past partnerships—and with the public—to the table.
Building a name for yourself in the consumer market can get OEMs and other supply chain partners excited to associate you with their products. More and more automakers are advertising reputable supplier brands in their component systems and vehicles.
For example, the racing brake manufacturer Bremebo prominently brands their calipers to build visibility. Performance fanatics now hold them up as a preferred brand. The same branding trend is familiar to automotive audio systems, where premium brands increase whole vehicle sales. Start amassing a following so that OEMs see the inherent value in building a strong relationship with you.
This could mean more visible branding, or it could mean building out a social media presence on LinkedIn, Facebook, and Twitter (as suggested in the above article). However, other inbound and outbound marketing strategies can also boost product awareness and company engagement, such as:
A company blog that builds thought leadership in the industry
Email newsletters with roundups of industry topics that interest consumers
Advertisements or articles in major industry publications (like magazines or automotive-focused news sites)
Product demo or how-to-videos on YouTube that target consumers
Ultimately, a reputation for trust and quality goes a long way toward greasing the proverbial wheels for your OEM relationship. Combine all of these qualities—sterling reputation, specialized skills, a culture of innovation, and a collaborative, transparent approach—and your working relationship with OEM partners will be in the best possible position to flourish.